What with the budget lunch exam to prepare for I completely forgot to post about the previous weeks happenings at Tante Marie, here is very briefly what I missed.
Started the week with a theory class about chocolate and chocolate tempering which included a tasting session. We had 14 or so different chocolates to sample and boy did we sample! Now I'm a fan of bitter chocolate, but trying a 100% cacao product was horrific, it just kept getting worse and worse the more you chewed and sucked at it. The afternoon was spent making Cassata gelata, a ice cream filled with a variety of candied fruits, for someone who loves ice cream as much as I, making this throw back broke my heart, I like my ice cream smooth but can deal with 'bits' if they are tasty. I have yet to find anyone who finds glacé cherries tasty. We also made a start on a Tarte aux pommes normande and Frankfurter Kranz, both of which were finished the following afternoon.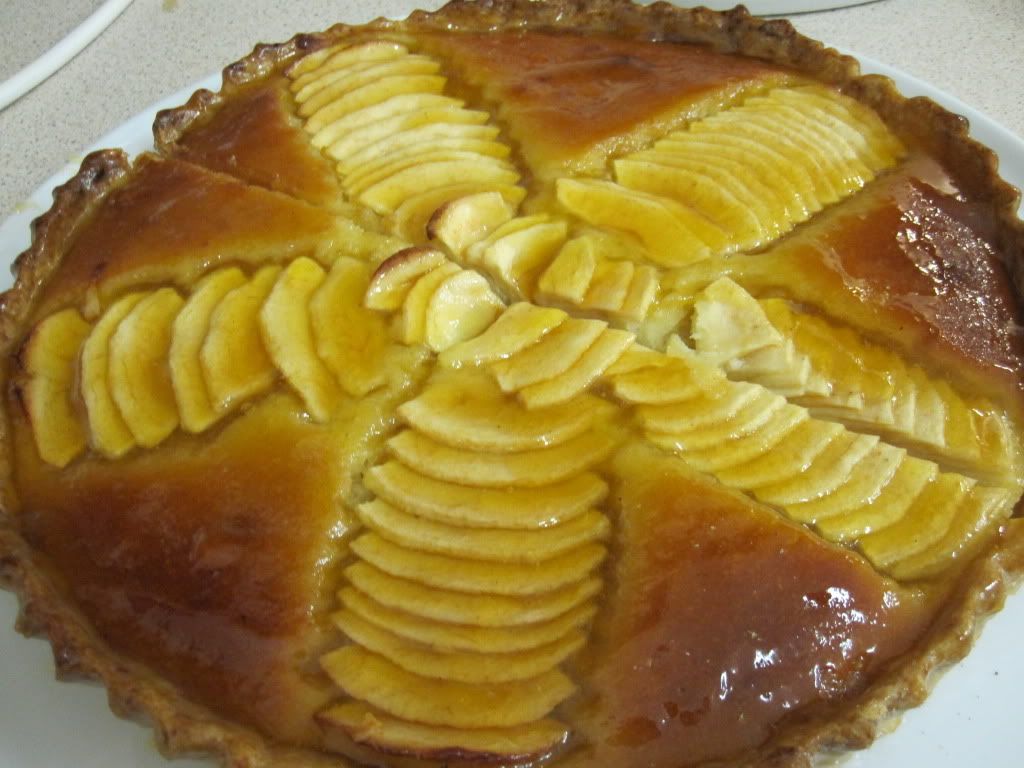 I already started slicing this bad boy up when I remembered to take a snap!
Tueday saw a game demo. No this was not a class devoted to the best tactics to employ when playing Monopoly or Connect 4. We saw a multitude of wildlife cooked and beautifully presented to us by Tim, which we dutifully tried to recreate on Thursday morning. A very informative, enjoyable and down right tasty demonstration, the star of which for me was probably the simplest.. Spatchcock quail skewers with Asian salad.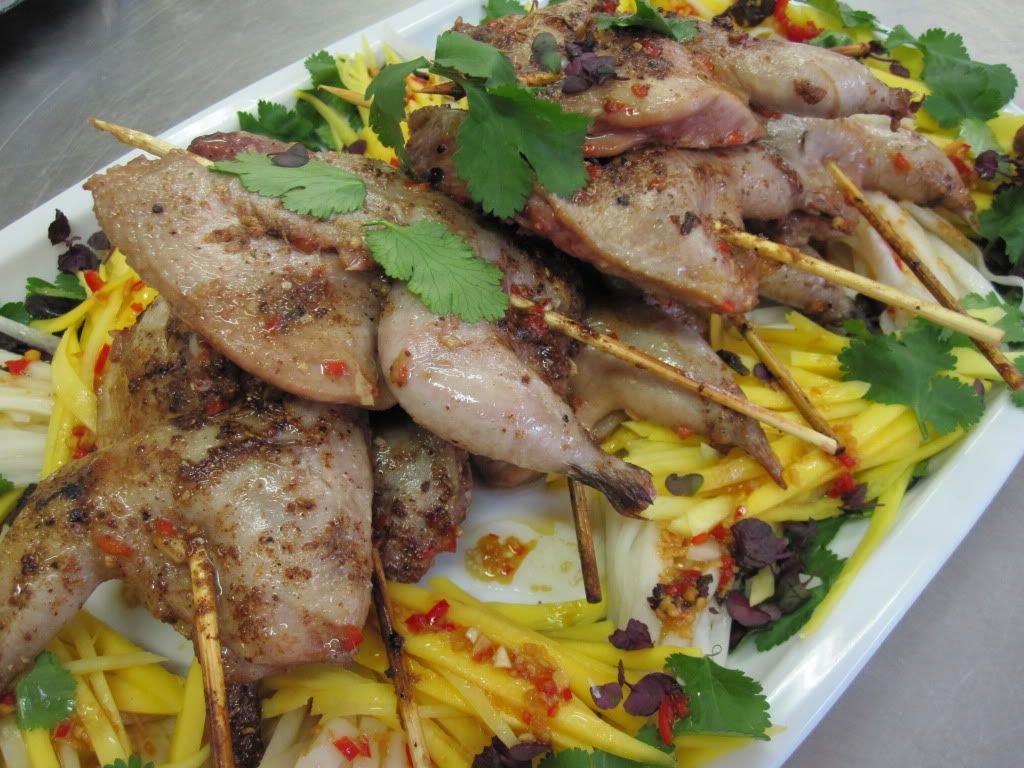 Spatchcock Quail on Asian Salad
Another quail dish, the name of which escapes me right now.
Wednesday morning saw a Hamper demonstation. None of the things we saw cooked reminded me of the picnics I have been on that consisted of stopping off at Tesco for some sandwiches, cold pork pies, some crisps and a mars bar. Seems to me there is a whole crazy world out there I am yet to experience! The afternoon theory class met us soon after where we discovered "The Project". "The Project" is made up of five questions and basically asks us to write menus, order or services, recipes etc. for a variety of events. Question 4 for example asks us to write a five day menu for quests staying at a Cornish holiday cottage in August. They are 'foodies' and would like a formal four course meal each night with the choice of two deserts and a cheeseboard.... oh dear! Other questions include catering for a canapé party and a Henley picnic. I have a feeling these projects are going to take a lot longer than it initially seems.
Thursday afternoon was a dreaded cake decorating class. All went, once again suprisingly well. I guess when one has such low expectations of what the can artistically achieve, even the slightest thing going ok makes one smile. I smiled a fair bit.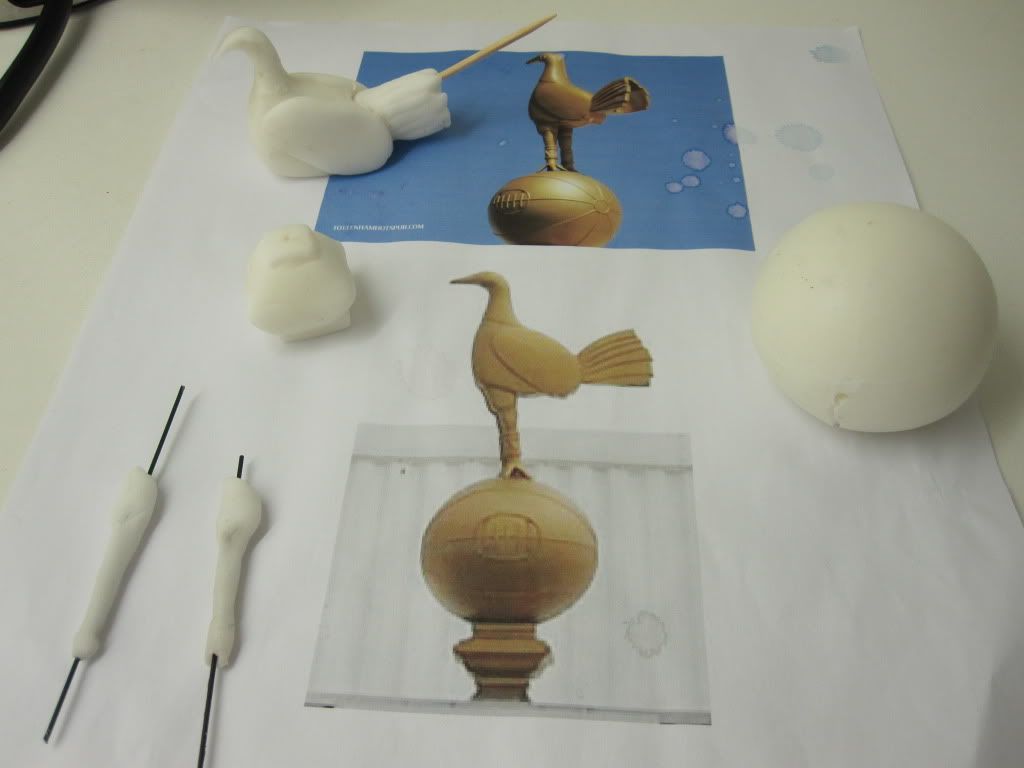 Sometimes I wonder why I choose to do these things to myself, I guess "Audere Est Facere" sums it up.
Friday saw Escalopes de veau viennoise, potatoes baked with blue cheese and parmasan, lemon glazed carrots and courgettes and finally profiteroles au chocolat filled with crème chantilly. Basically this was a very very tasty lunch... I ate nearly all my profiteroles... they were so good, infact they were probably better than the batch I made when I was 13 due to the chocolate suace being far superior this time. I remember my mother telling me they were very hard to make all those years back... but just like Jay-Z I bust them out in one take and they were amazing. I guess I was just born with it! ;-)