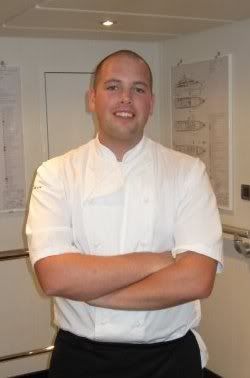 Having always had an interest in cooking and eating great food, at the age of 27 I have decided to send myself to Tante Marie Culinary School (UK) to complete an Intensive Cordon Bleu Diploma.
I decided shortly after completing a Business degree that the 9-5 grind was not for me and embarked on a number of jobs including working on multimillion Euro yachts in the Mediterranean and Caribbean seas, selling Satellite TV door to door in Perth, Australia and running a chalet in the Alpine resort of Val d'Isere. I have now decided upon a career in the kitchen and am looking forward to the opportunities to work and travel the world, that being a chef can present.
My aim for this blog is to chronicle my culinary journey and anything else I find particulaly note worthy at the the time. I will post recipes from time to time, but I feel cooking is more about ideas and touch than simply following a rigid framework of instructions... we will see how it turns out.
I hope you enjoy following me on this journey.
Dylan