So we have double whammy coming at you this week, a BOGOF, a 2 for 1 or however you want to put it.... it's basically a way for me to almost catch up to where I should be. No excuses... I have been enjoying the life of a man with only one exam left, which basically means watching series 4 of the Sopranos and catching up on searching the world wide interweb for amusing videos... such as this one...
Girl Slams Face Into Her Massive Chest - Watch more Funny Videos
Onto the usual subject matter...
Week 7 at Tante Marie was a short week what with Monday and Tuesday being half-term so on our return Wednesday we had a full day of cooking to get through. Orange and kiwi profiteroles with orange sabayon were preceeded by a delightfil mushroom risotto and a not so delightful pancetta and blue cheese risotto. I am a huge fan of blue cheese, but not when used in a dish and completely over powers everything else, I found myself searching for a crack to spoon it onto! We also got to eat the rabbit rillettes made the previous week on some country bread toast... deeeeelish!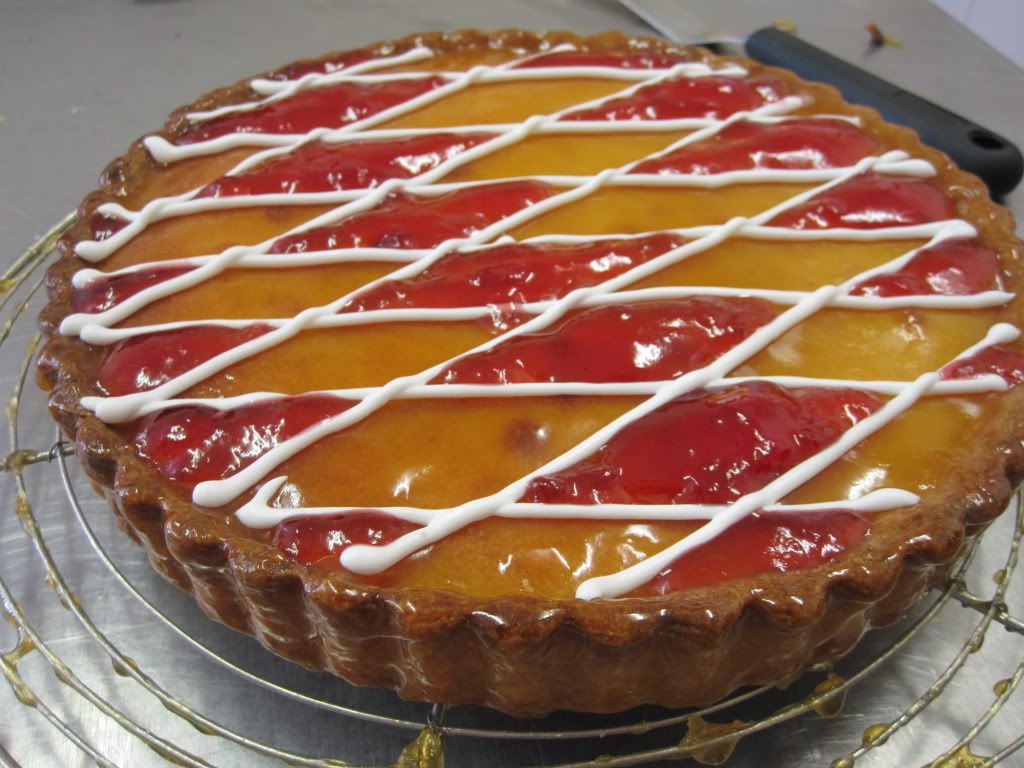 The afternoon saw English breakfast muffins being made to accompany eggs Benedict in week 8. A Canterbury tart and creme fraiche ice cream where also conjured up, the highlight being the tart despite me being a MASSIVE ice cream fan.
English muffins in the making.
A total of three demonstrations took place, including one from Nathan Green a former young chef of the year and has worked in many great restaurants including Gidleigh Park in Devon... where I am going!
On Friday we cooked something I have wanted to try for a long time, namely sweetbreads. Although not the hugely sought after and expensive veal sweetbreads the recipe (ris de veau) called for, the lamb sweetbreads were very nice and tatsted pretty much as I had expected them to. Served with French style peas and followed by pannacotta with raspberries and muscat jelly it made for a delightful lunch.
Week 8 started with my celebration lunch exam I have previoulsy posted about and included some rather tasty bits and bobs along the way. The highlight for me were the boudain blanc we made, and although not being very blanc at all, the flavour was very simliar to the one my mother purchases whenever she goes to France... although the schools recipe didn't call for black truffles to be utilised in the white sausages.
Caramel ice-cream was always going to be a winner, and considering it was a no-churn recipe I was quite impressed at the resultant texture and lack of ice crystals. Rum babas, an old school donut-like-cakey thing were quite nice and are apparently coming back into fashion in posh restaurants across the capital, as were the warm chocolate fondants.
Confit duck legs were prepared from scratch, lovingly salted over night, gently cooked in duck fat, allowed to cool in the fat and then crisped in the oven the next day.... delightful.... a word I would not choose to describe the grapefruit risotto (yes thats not a typo) that was to accompany it.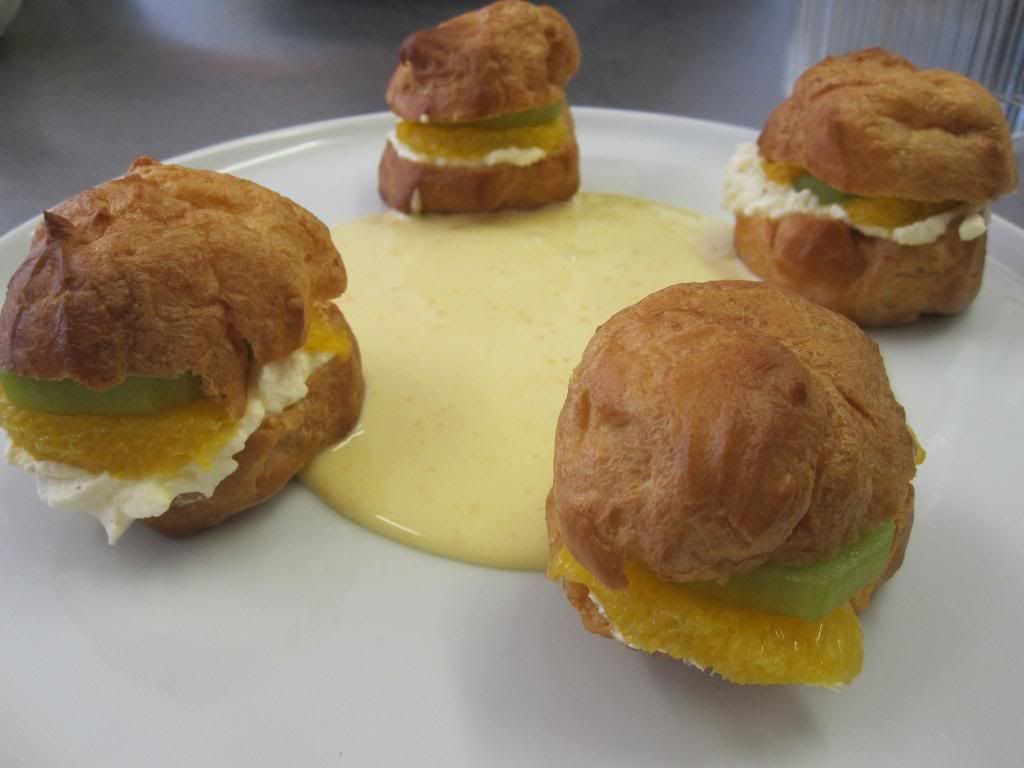 Kiwi profiteroles and rather deflated sabayon.
No I have a thing for profiteroles, wherther they are filled with cream or custard I dont care, so imagine my delight when we had to make a Gateau St. Honore. The gateau is basically big choux pastry balls sat on a big disk of choux pastry which in is sat on a ginat sweet pastry disc. The choux balls and ring are filled with a light and creamy, yet quite rich cream filling before being securred to each other with lots of caramel. The hole in teh centre was then filled with strawberrys and covered with more cream filling piped using a special nozzle and then covered in chopped pistachios. Dyl-icious.
Well that is about that. Only one full week of the course left. I have my final exam on Tuesday and Wednesday and we start getting results for our other exams on Friday in theory.... not looking forward to the theory mark!
Dylan
p.s. here are some crazy Japanese guys making some sort of dough....
Crazy Japanese Dough Pounding - Watch more Funny Videos