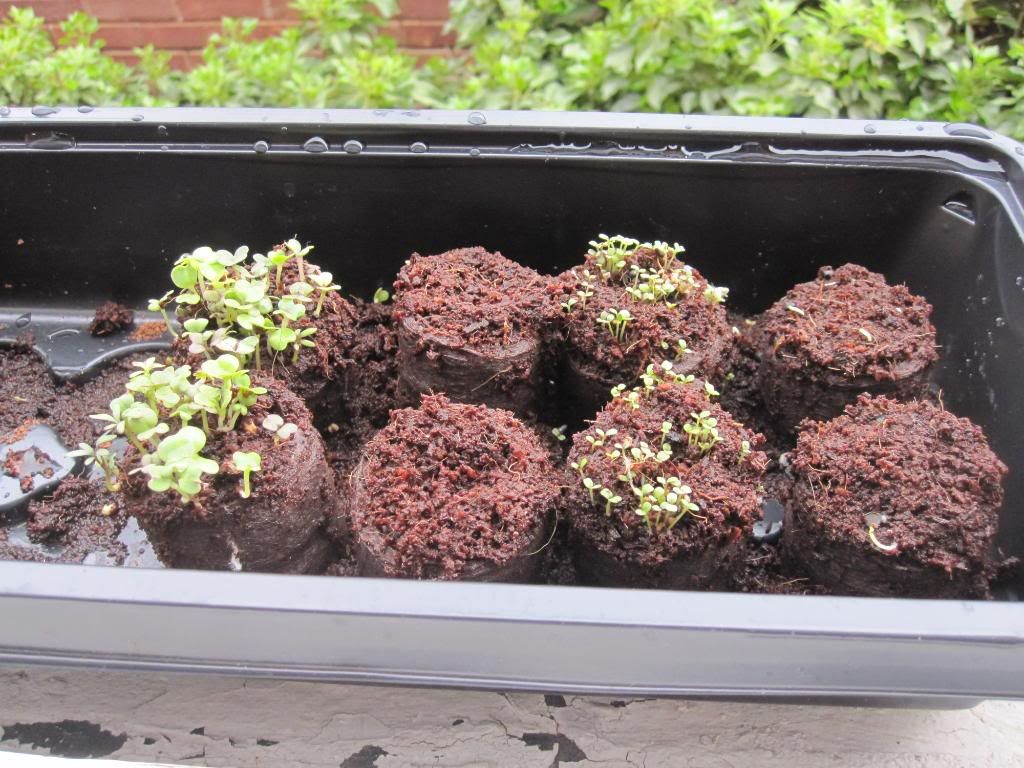 Speed salad mix on the left hand side colum taking Woking by storm... Garlic chives on the right are drunk and sprouting upside down. The wild rocket 2nd from right making a noteworthy worthy effort, and 2nd from the left, red veined sorrel is a non starter so far!
The leaves are taking a little longer to grow than I originally anticpiated. Although we have had some lovely
weather over the last 6 days it has been a little on the cool side which I believe will inhibit the growth rate. I have also moved the tray onto a window sill on the staircase where I won't forget about them.
Nonetheless there are signs of life with the "speedy salad mix" seeds living upto there name having pulled off a fantastic first leg. Not a huge distance behind is the wild rocket which is growing steadily and evenly across the two jobbies of soil. The garlic chives have just sprouted, however a few seem to be growing upside down at the moment... pissheads.
Over in the egg tray the Japanese Mizuna leaves are the only ones making
an effort, and its a poor one at that. Come on you egg tray guys, don't let the team down!
Top right - Japanese Mizuna leaves making a small effort. Bottom left - Dead Lady Bird... will that become organic plat food when it decays... answers in the comments section please!
And finally the peas are joint last at present having yet to make a move. They were planted the deepest and will probably have the longest germination time despite the 24hrs of soaking they received.
Well that completes the round up of the action in sunny Woking, tune in soon for the latest on this fascinating event. Its exciting times around here right now.... seriously!
Dylan