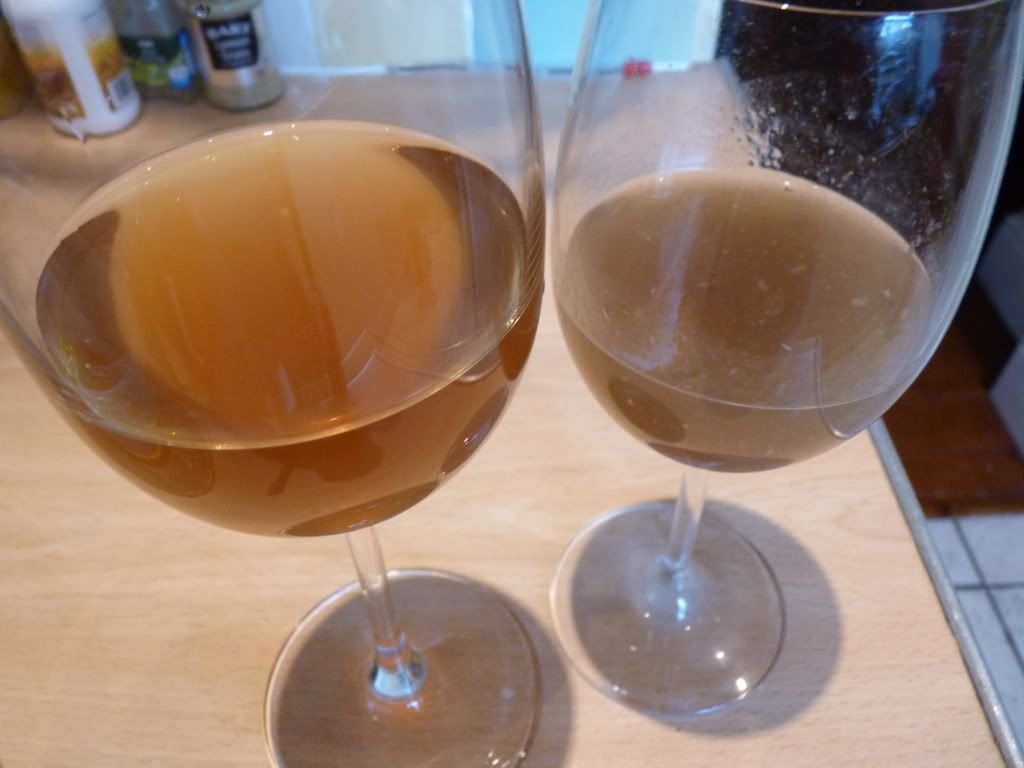 The 'before' on the right and the 'after' on the left. Pretty impressive hey!
When I tried
'gelatin filtration'
way back at the start of the year it was with the aim of producing a full-flavoured clarified stock that would act as a consommé. Although it was a success, I was left wondering what the reduced liquid would be like if used in a reduction sauce (jus). What with all the gelatin being removed in the clarification process I couldn't help but feel the jus would lack the viscosity we all have come to know and love.
The answer it would seem is to use Agar (sometimes called "Agar Agar"?!?!!), a product derived from red algae. It can be found in most Asian shops and is known as "Falooda Powder" or a lot of supermarkets who brand it as "Vegetarian Gelatin".
So yesterday I made a lovely brown chicken stock and added enough Agar powder to ensure the stock would set fully. I they froze the stock overnight, letting the ice crystals go to work on the agar, so that today I could defrost it over a muslin lined sieve... only this time, unlike the gelatin method which required it to be refrigerated and defrosted slowly over 2 days, the frozen stock is left to defrost at room temperature and is complete in about 6 hours.
Agar has a property called "Hysteresis" which means its melting point and setting point are both different. Agar melts at 85 °C and solidifies from 32-40 °C, and its this quirk which allows chefs like Heston Blumenthal to serve hot jellies, something that is just not possible with gelatin as its melting point is very low.
Its this property that I am also taking advantage of here. The theory is the frozen stock will melt a lot quicker at room temperature than in the fridge, saving me time but also allowing the gelatin in the stock to melt and end up in the finished clarified liquid. The agar will stay solid the whole time and act as a mesh like structure filtering the liquid as it passes through the microscopic holes created during the freezing process by the ice crystals.... if you are not following me please
read my earlier post of gelatin filtration here.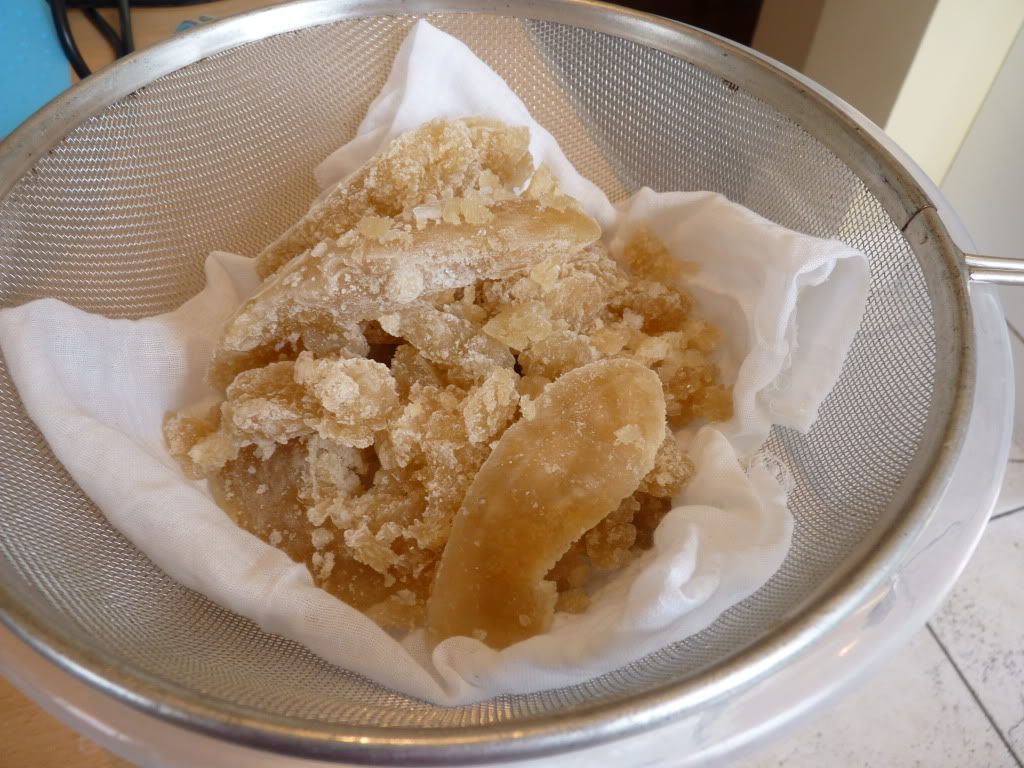 I broke the frozen stock up a little so it defrosted quicker... what can I say I am impatient!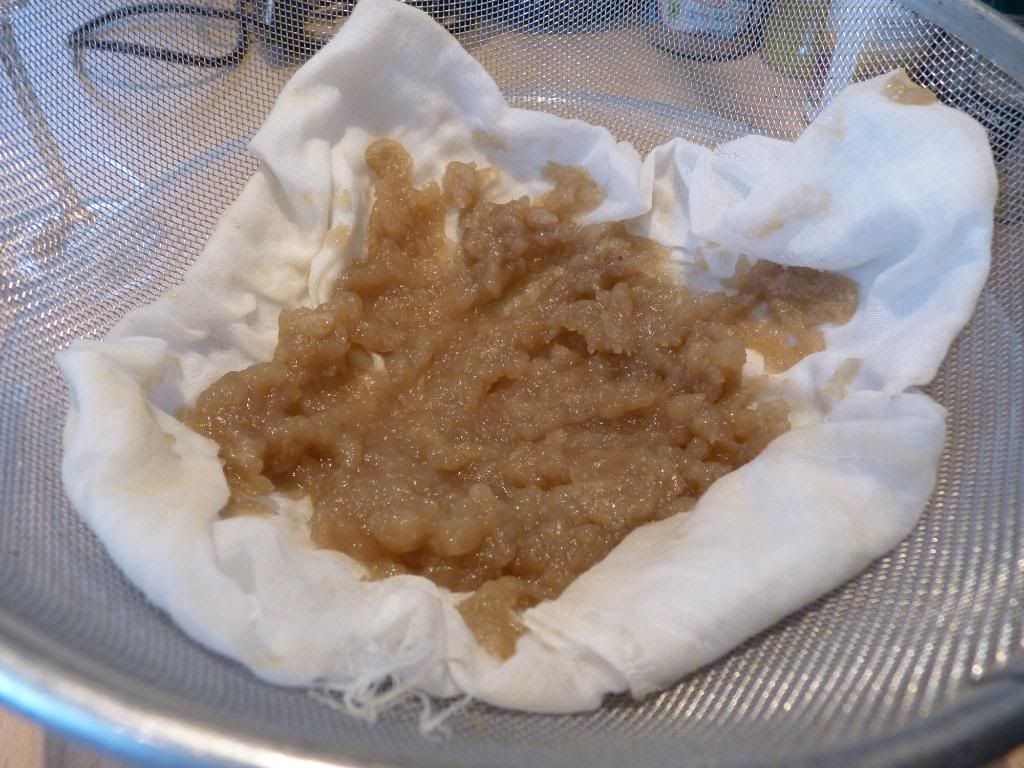 The mushy mess that greeted me after 5hrs defrosting. Nice. After a further hour the following was left in the bowl.......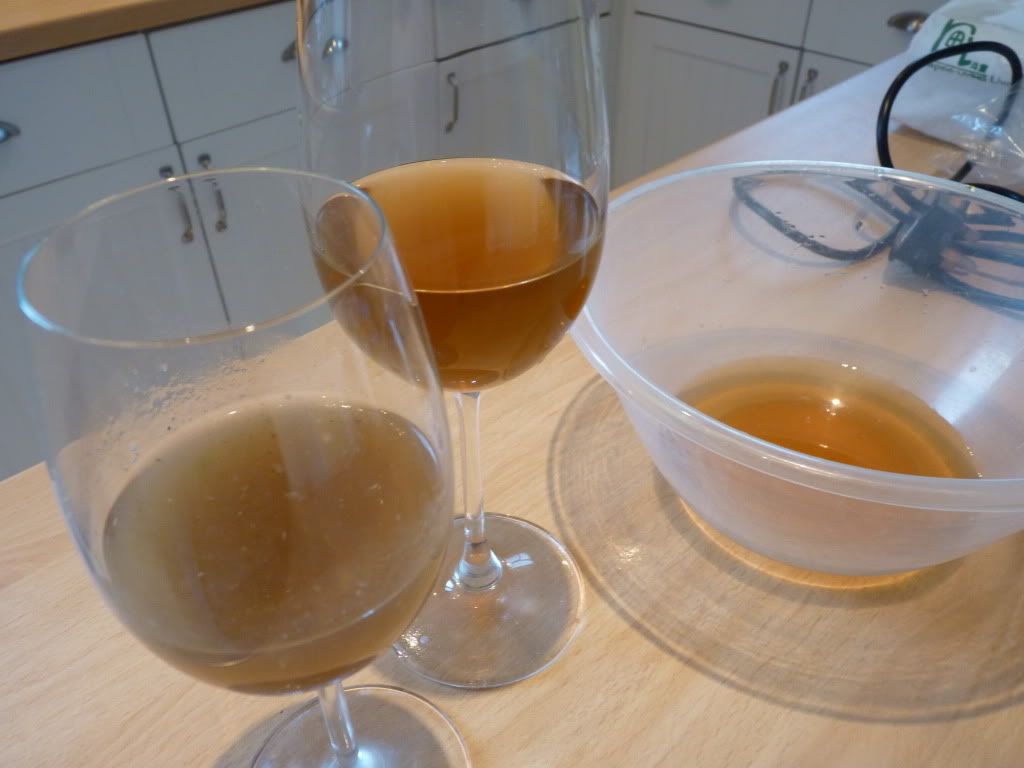 I am going to let you decide which glass contains the clarified stock.
Again a perfectly clarified stock with a refined and crisp flavour, its gelatin content intact and all in a hell of a lot less time than the gelatin method.
You can use this method to clarify fruit juice too... though I haven't tried this myself, pictures I have seen online are quite impressive.
Dylan