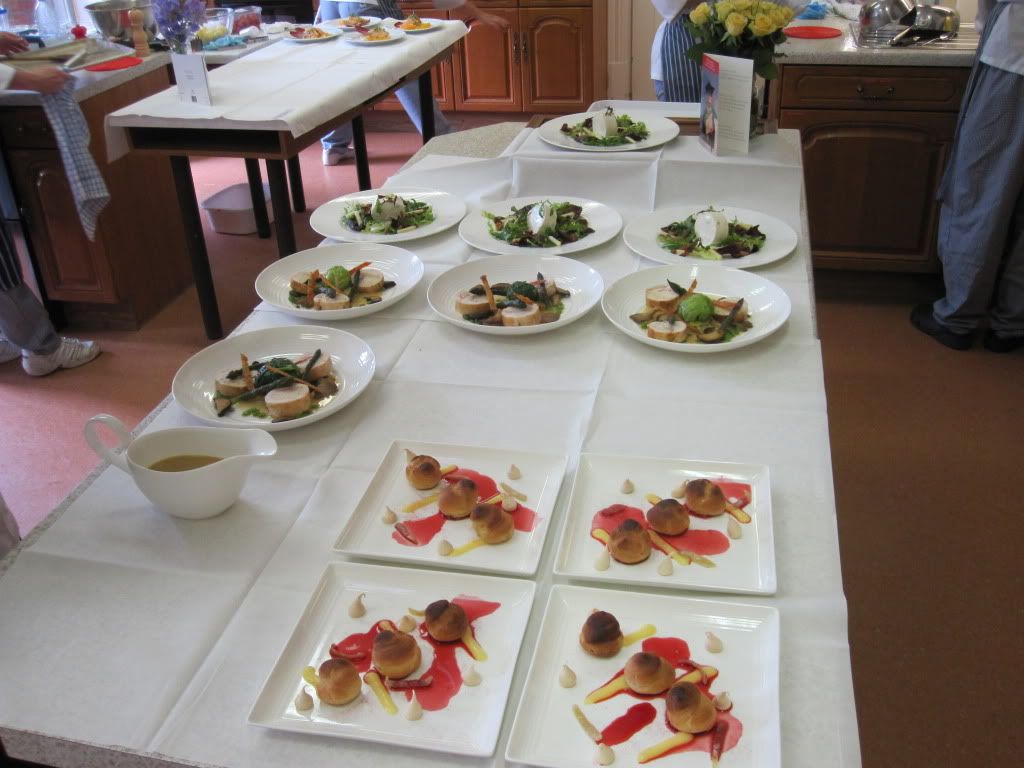 So the celebration lunch was done and dusted last Monday at
Tante Marie
and all in all I was fairly happy with how it went. There were a few little issues but nothing that caused too much impact on the final dishes... except for the jelly! But more on that later.
The actual menu I choose was a little more complex than I may have let on in the initial post on the subject:
Terrine of goat's cheese
served with marinated raisins, cox apple batons, toasted walnuts and a selection of lettuce leaves with a light walnut oil dressing.
o0o
Ballotine of tarragon chicken
accompanied by confit chicken leg, fresh peas, sautéed wild mushrooms, purple asparagus, leek fondue and a white wine sauce.
o0o
Lemon meringue
choux balls filled with creamy Italian meringue and served with lemon curd, raspberry jelly*, crispy meringue peaks and candied lemon peel with a dusting of raspberry powder.
So the starter was a young goats cheese blended in a food processor with some Greek yoghurt. I then added diced apple and celery before adding some hot whipping cream with a little gelatin to help hold it all together so I could turn it out of the ring mould easily. Nice and simple and absolutely Dyl-icious when combined with the white wine marinated raisins, crisp cox apples, toasted walnuts and dressing... even if I do say so myself.
A special note again to Brockhall Farm for supplying me with some excellent fresh goats cheese for the base of my starter, as well a beautifully creamy rinded goats cheese which was sliced and set in the middle of the terrine's for additional flavour and texture. Be sure to
follow Sarah on Twitter
and
check out here blog here.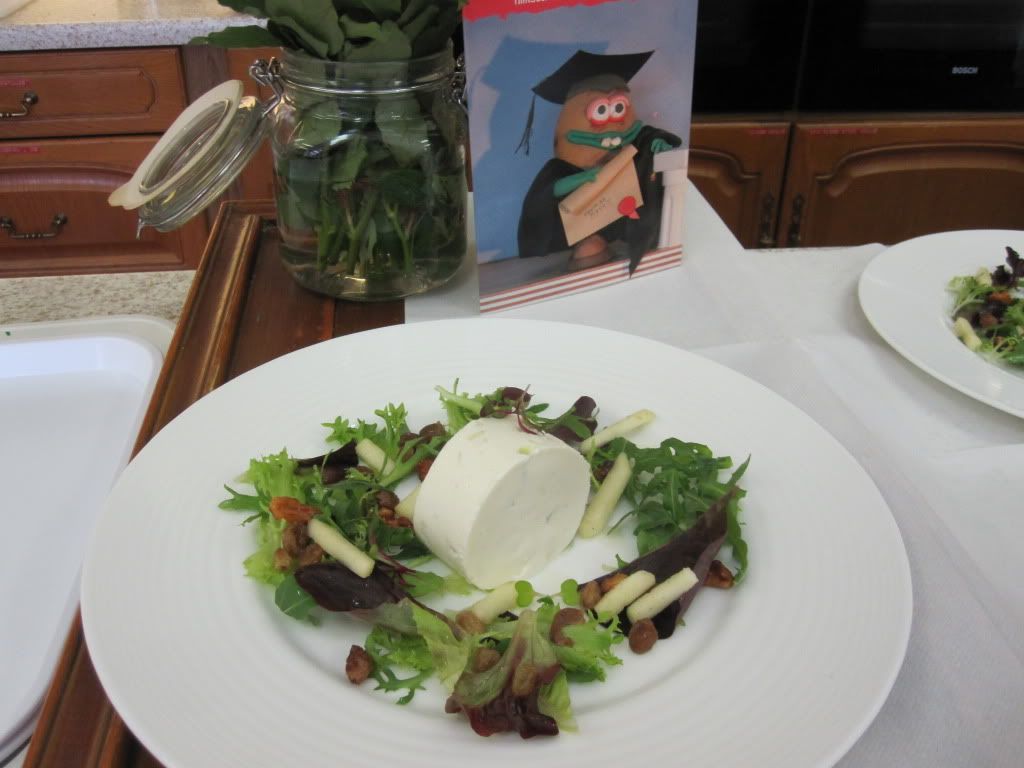 Goats Cheese Terrine - I really love this dish, delicate yet full flavoured.
Main course was some beautiful free-range chicken that I removed from the carcass keeping the skin in large pieces. I confit one leg and both wings in duck fat and made essentially a sausage with the two breasts and remaining leg by opening up the breasts and laying them on cling film with the diced leg meat. This was then seasoned and topped with chicken mouse made in a food processor with an additional breast, equal weight of whipping cream and tarragon. The whole thing was then rolled in cling film, cut in half and re-rolled in cling film and secured very well at each of the ends. It was then poached for an hour at 62-65c in a large pan of water with a temp probe in... a poor mans water bath if you will, to ensure the chicken was super super tender. When ready I removed it from the cling film and coloured it in a pan before adding more glacé de volaille to give the ballotines a slight gloss.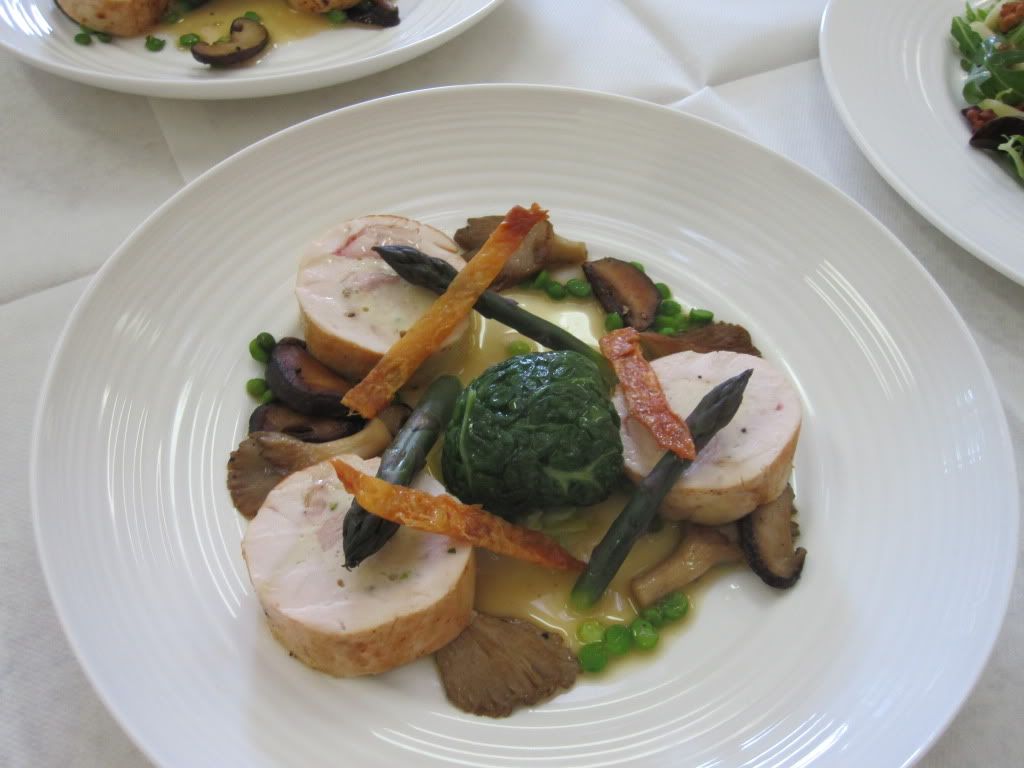 When the confit was ready I stripped it from the bone and seasoned it with salt, pepper and a glacé de volaille I had made at home before placing it some blanched savoy cabbage leaves, forming into balls and wrapping in cling film so they could be warmed through in boiling water.
The rest of the veg was fairly simple, leeks that had been blanched and refreshed and placed in double cream with a clove of minced garlic that had been reduced until thick. The peas were so fresh and sweet I didn't want to cook them to much so I blanched them for 1 minute before refreshing and removing the skin on each pea and the purple asparagus was blanched for 30 seconds again due to its tenderness and freshness. The mushrooms were sautéed in seasoned butter until lightly coloured and cooked through.
You can see more clearly the different parts of the ballotine... the white meat, the brown leg meat and the slightly yellow tarragon mouse.
The sauce was a fairly simple affair, shallots, garlic, thyme and a bay leaf sweated down until well cooked but not coloured, then adding white wine and reducing until the pan is dry. A really nice chicken stock was then added and reduced by half before adding a few splashes of double cream. The sauce was passed through a sieve and then lots of butter were whisked in before seasoning and serving.
Oh and I nearly forgot... the crispy chicken skin. Once the skin was removed from the chicken I laid it on a baking sheet, sprinkled with salt and placed another baking sheet on top before putting it in the oven. After 10 minutes I removed the skin which was still white and floppy, but crucially the shape had been set so it wouldn't shrink any more. I sliced the skin into strips before placing them back on the tray to continue cooking until golden and crispy. My favourite part of the whole menu!!!
Finally the desert. Choux pastry was made with vanilla sugar... and baked for 5 mins too long, hence the slight "caramelisation" on them. I made the lemon curd in a bowl set over boiling water as this is a more gentle approach than doing it in a sauce pan and allows you to step away and do other things as it only requires the occasional stir. The jelly* was made by extracting the juice from some frozen raspberries, sweetening with sugar and letting it down with a little water before adding gelatin and setting in the fridge.
The Italian meringue was made in the usual way, pouring hot sugar (115c) onto whipped egg whites and whisking until cold. I pipped some in small peaks and set them in a 100c oven until fully dried out and crispy all the way through. The remainder I added to a little whipped cream and used to filled the choux balls.
I think this could have almost passed as a professionals dish if the jelly hadn't melted and ruined the aesthetics!
The candied lemon and raspberry powder I made at home and brought in to add a little bit extra. The powder was made with some of the raspberry powder dehydrated in my oven over night before being added to a coffee grinder with some vanilla sugar. The lemon was made by blanching and refreshing the rind twice in fresh water before simmering in a 50% sugar syrup for 45 minutes and leaving to dry before dusting in vanilla sugar.
So the major issues were the over cooking of the choux balls, the fact that my raspberry jelly lasted about 4 minutes in the heat of the kitchen before turning into raspberry coulis... I plated it up 20 mins before the deadline... wont make that mistake again! Also I could have added a touch more cream to the white wine sauce as it was quite toffee-like in colour and buttery in flavour. Also as I decided to stand the terrine's on their sides, the heat of the kitchen acted against me meaning that after a few minutes they could have been considered to be very poor subcultures of the leaning tower of Pisa. Oh.... and the mouse in the ballotines wasn't as tarragony (is that a word?) as I wanted. When I made the mouse I cooked a little off to check for flavour and seasoning and it tasted great, but when cooked the flavour wasn't as pronounced as I wanted... maybe I got all the tarragon in that one little tester teaspoon!
As I said, nothing major went wrong and all in all I'm quite happy. My class mates and myself are not so happy about having to wait until the last few days of the course to find out our marks though... so I guess you will have to wait too!
Going out on a limb... I'm going to award myself a solid 75%.... come back in a few weeks and see how right or wrong I am!
Dylan
*jelly in hot hot kitchen = coulis after 4 minutes!