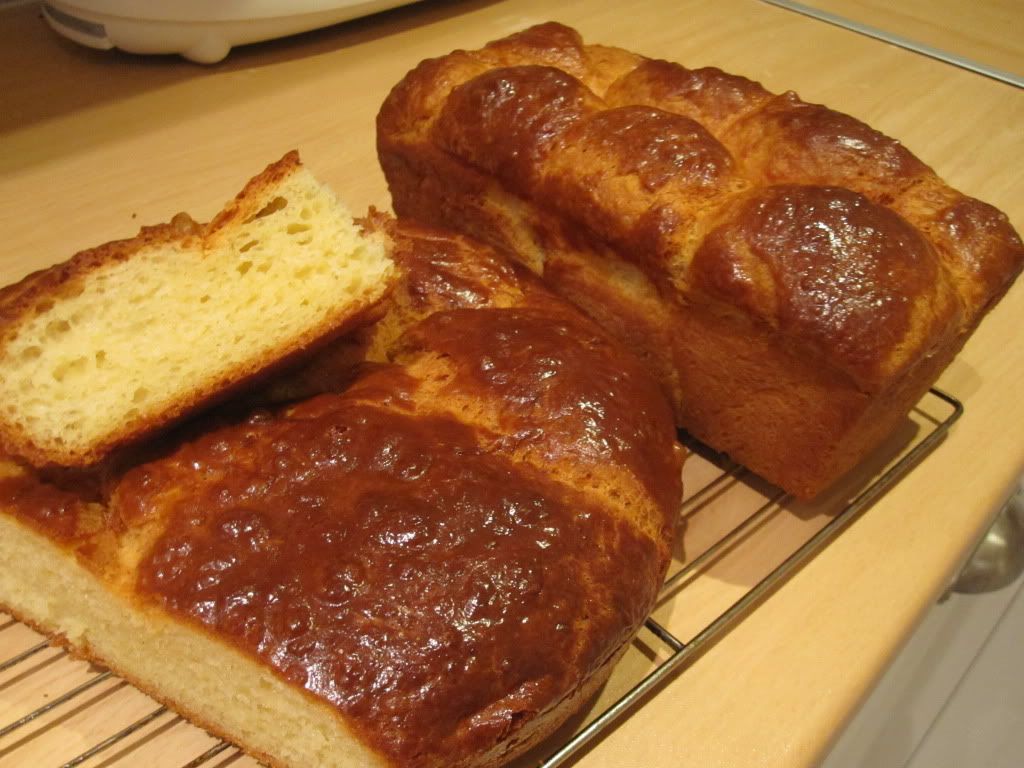 Well this morning I awoke with the usual spring in my step that occurs when I have to bake my sourdough loaves only. The problem was that after skipping into my kitchen in the manner of a 8yr old girl with pig tails in her hair, I was confronted by the sight of my loaves to be decorating the kitchen surface! So in a fit of baking depression I launched the massively over-proved dough in the bin and ran... well briskly walked, to the local shot to pick up eggs and butter... not for a fry up as you may expect but to start some Brioche.
For those of you that don't know, brioche is an enriched French loaf. You may wonder how indeed it is enriched... well try making it with almost an equal weight of butter to flour then throw in 5 eggs and some vanilla sugar... yep that should do it.
This kind of ratio of butter/flour is usually referred to something along the lines of Rich Mans Brioche as you can imagine all that butter and good eggs ain't cheap... well in comparison to the ratios used in Poor Mans Brioche at least!
The last time I made brioche was on board this...
M/Y Slipstream
It was my very first attempt and with the left over dough I had, I made some mini brioche loaves in these tiny little moulds. The chef though they were so good they ended up on this dish for the guests.....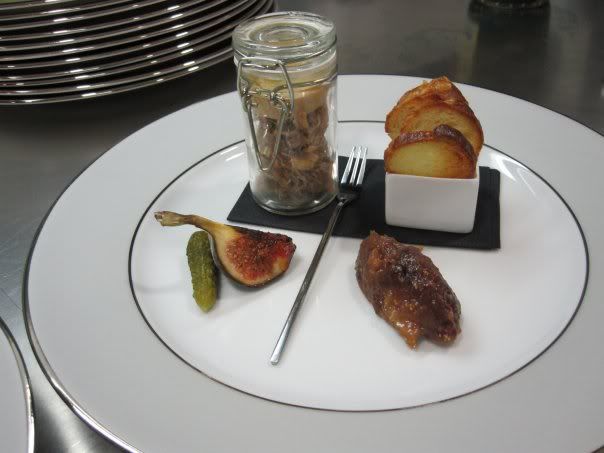 Confit duck leg, fig chutney, foie gras and my brioche!
Needless to say the environment I found myself in baking today was nowhere near as glamorous or as sunny, in fact Woking was a positively shitty place to be today, as usual!
Now before I start be warned that this is not a quick recipe, but that doesn't mean you should try it. Yes it may take a while to make, but the time actually spent tending to the dough is quite small, the rest of the time is spent proving.
So you will need...
For the sponge/pre-ferment:
115ml whole milk, lukewarm
65g bread flour
25g fresh yeast
For the rest of the dough:
5 medium eggs, beaten + 1 for egg wash
450g bread flour
450g unsalted butter at room temperatre
60g vanilla sugar
12g salt
Method...
The day before you want to bake combine all the ingredients for the sponge/preferment in a large bowl and place in the fridge covered with cling film.
The next morning combine all the dry ingredients together and cut up the butter into cubes. Whisk the 5 eggs one at a time into the sponge before slowly beating in spoonfuls of the flour mixture.
When all the flour is combined you will have a sloppy mess that will look impossible to do anything with... don't worry you are on the right track.... and its going to get worse! Now tip onto a work surface and begin to start stretching the dough and kneading it. Add the butter in 4-5 lots after the previous lot has been absorbed by the dough, this should take about 10-12 mins of kneading/mixing.
Now place the dough/mess into a bowl and cover very securely in cling film and leave on the side for 2hrs before placing it in the fridge for another 6-8hrs.
The dough is ready to portion, all that is needed is for it to be portioned and baked. You could make individual ones in muffin tins or special tins for Brioche à tête, or you can use a loaf tin and place 7-8 balls of dough in it. The dougfis quite hard to shape at this point, use some flour and work quickly.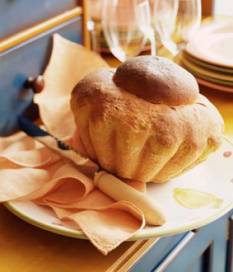 A brioche à tête I found on the old interweb. The tête refers the bulge atop the brioche... tête being French for head. I still got it baby!
The dough now needs to prove for an hour or slightly longer until almost double in size. Brush with beaten egg twice and bake at 200c for ten minutes before reducing the temp to 180 for a further 10-15mins depending on the size of your brioche.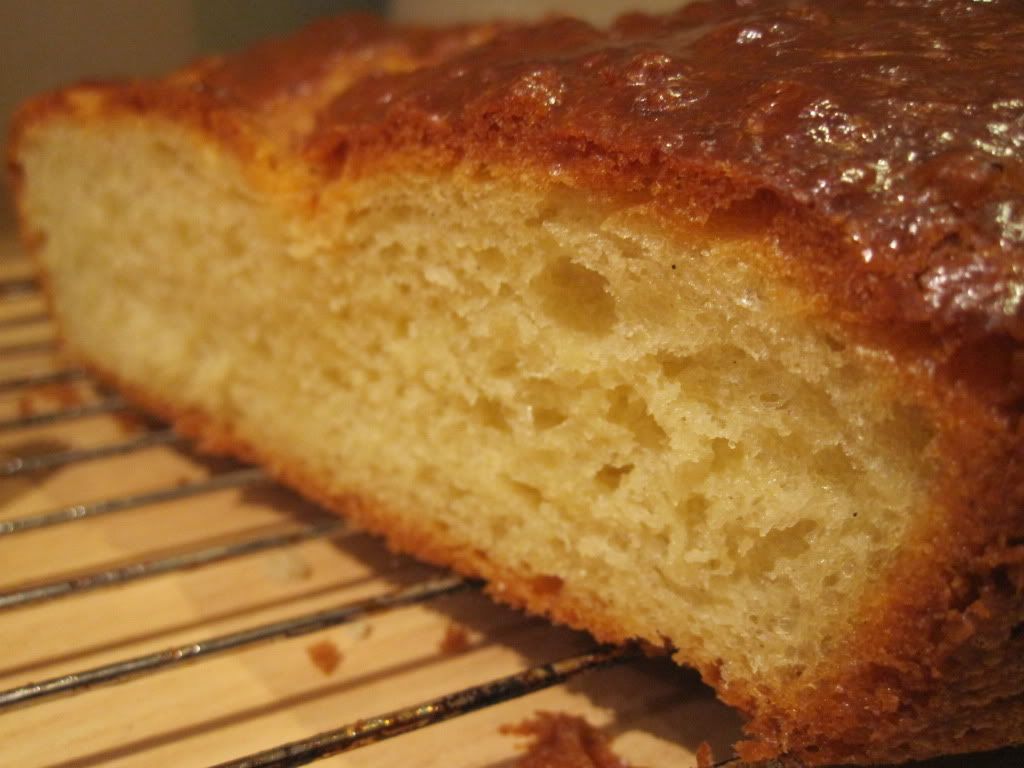 Buttery buttery tasty tasty brioche!
Leave to cool in the tin before removing as they are quite delicate when warm due to all that buttery goodness. Call friends around so they can witness the amazing smell permeating your house... then forcibly make them leave as this is far too good for the likes of them... I promise!
Dylan