Excuse the briskness of this post but since we have just completed week 5 you can understand I am a little behind what with all the work that is due to be handed in over the next week or so.
As expected there was more puff pastry on the go this week at
Tante Marie
, this time in the form of "Bouch
é
es". You may recognise these puff pastry tidbits from supermarket or the from the 70's where they were generally marketed to the masses as "vol-au-vent cases". Well sit down and grab a strong drink (my preference is a 6-pack of special brew) as I have some harrowing news... you have been lied too! What was marketed to you as a vol-au-vent was in fact a
! The dirty lying bastards! You will be able to see what an actual vol-au-vent looks like in my next post so please rest easy for now and continue to read if can get over this monumental occurrence that may well have shattered your faith in society as a whole.... why would they lie to us? Why why why why???
These are

bouch

é

es and not vol-au-vents... crazy times we are living in people.
So... we made our puff pastry, had our usual "rise competition" filled the vol-au-vents, sorry I mean bouch
é
es, with various savoury mixtures. I was happy with the rise I got, in fact the rise was a little too great as they became unstable and toppled over, nothing that a bit of redirecting and pressure cant sort out though.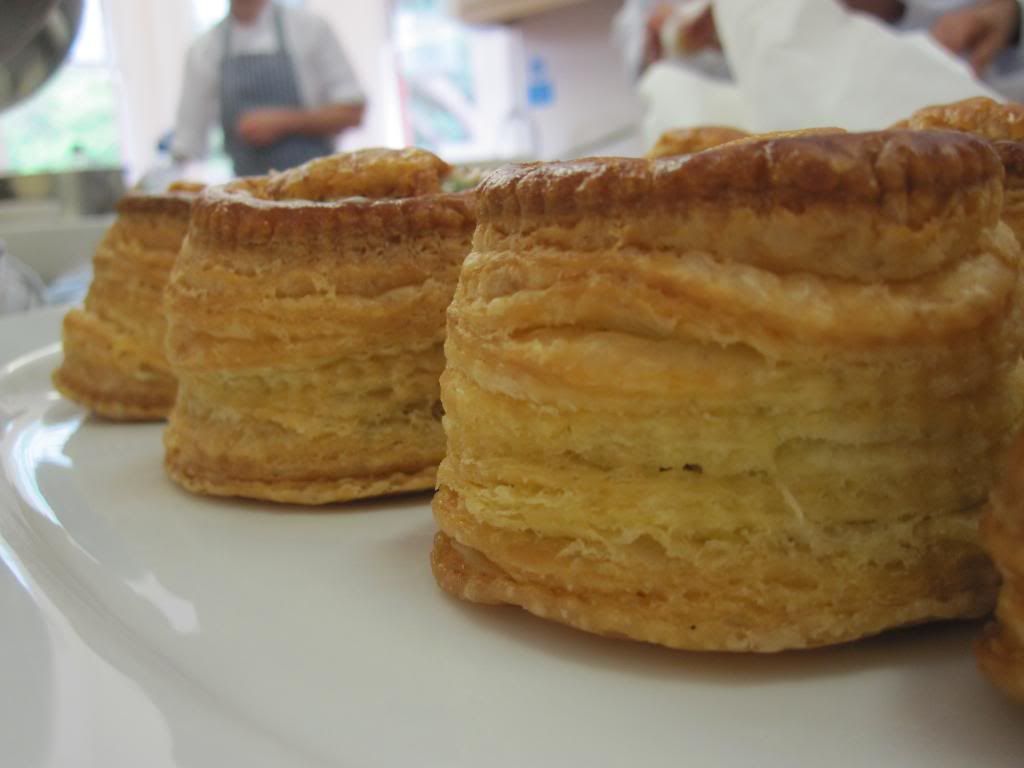 Oh yeah..... the all inportant side profile "rise shot"!
A "Frutti" was also on the cards this week, a "Frutti a la vanille" to be more detailed
. Not being massively into baking cakes I found constructing this cake quite fun, and I do mean constructing. What with the slicing of sponge and slathering with jam to stick them together to form a retaining wall for the custard and fruit filling, I could have almost been a builder like fellow class mate Lewis aka "Lulu" was in a former life... just without all the tea breaks and heckling of ladies who may pass by. Here is a picture of Lulu enjoying his lunch... never try to talk to Lulu while he is eating, just a tip.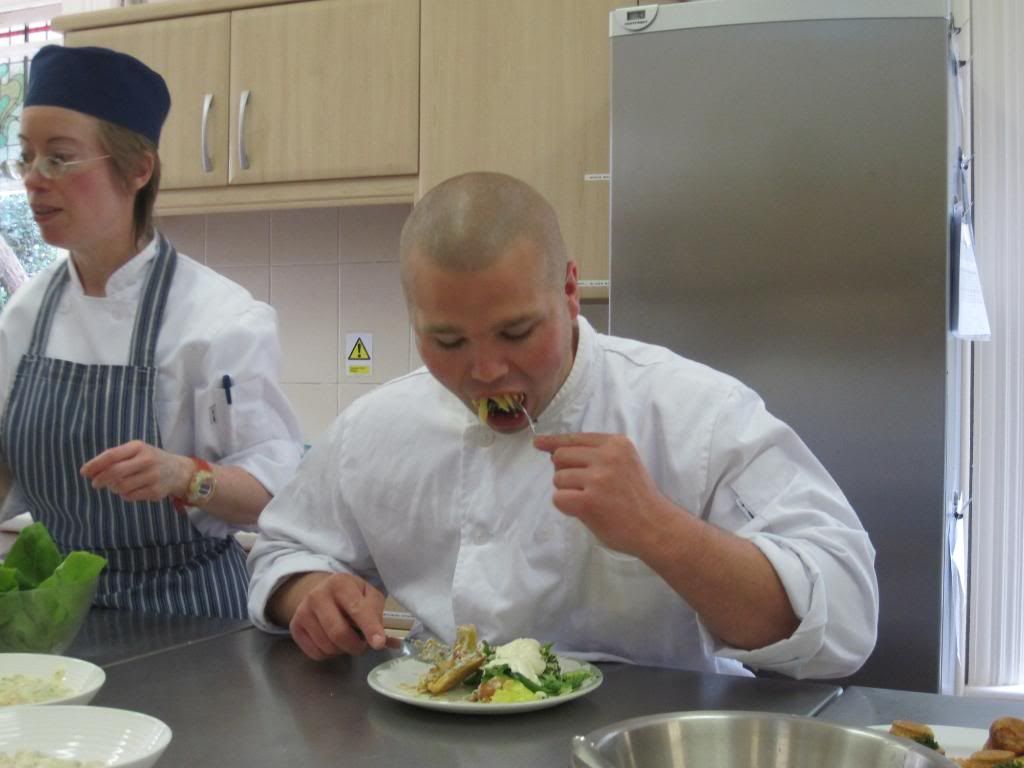 When it come to eating Lulu is a fearsomely methodical and machine like.
Oh and I may as well include a picture of the Frutti I guess.
Frutti a la Vanille
Another cake on the menu this week wasn't even a cake... it was a Dobos Torte. Yet again this was more of a civil engineering project than baking, with Lulu bringing in a spirit level and a copy of the Daily Sport for nostalgia. Here's a picture of Lulu after someone asked if he was enjoying his lunch....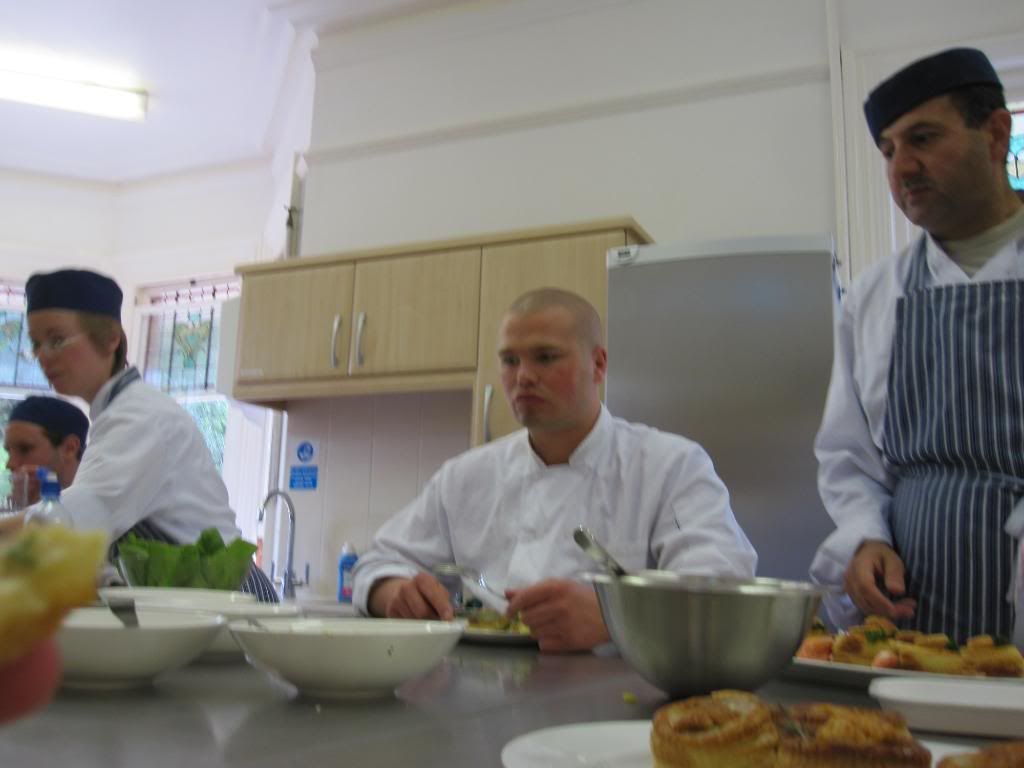 Run for cover!!! Something VERY BAD is about to happen!! Which one of you spoke to him????
Back to the Torte, it was made up of many discs smothered with chocolate butter icing before being covered in more icing and coated in chopped nuts. Then a final disc had caramel poured onto it before being cut into eight pieces that would become the "windmill" style decoration. Quite tasty!
Dobos Torte - nutty and chocolatey!
We also had a demo on Aspic work and made a salmon, consommé, sea bass with warm tartare sauce, baked stilton pears with water cress and a few others things that slip my mind right now.
Until next time,
Dylan.
(wasn't that brisk after all was it... value for money that's what I give you, even when I don't want too!)