ITS ALL GOING CRAZY DOWN HERE ON THE WINDOWSILL PEOPLE!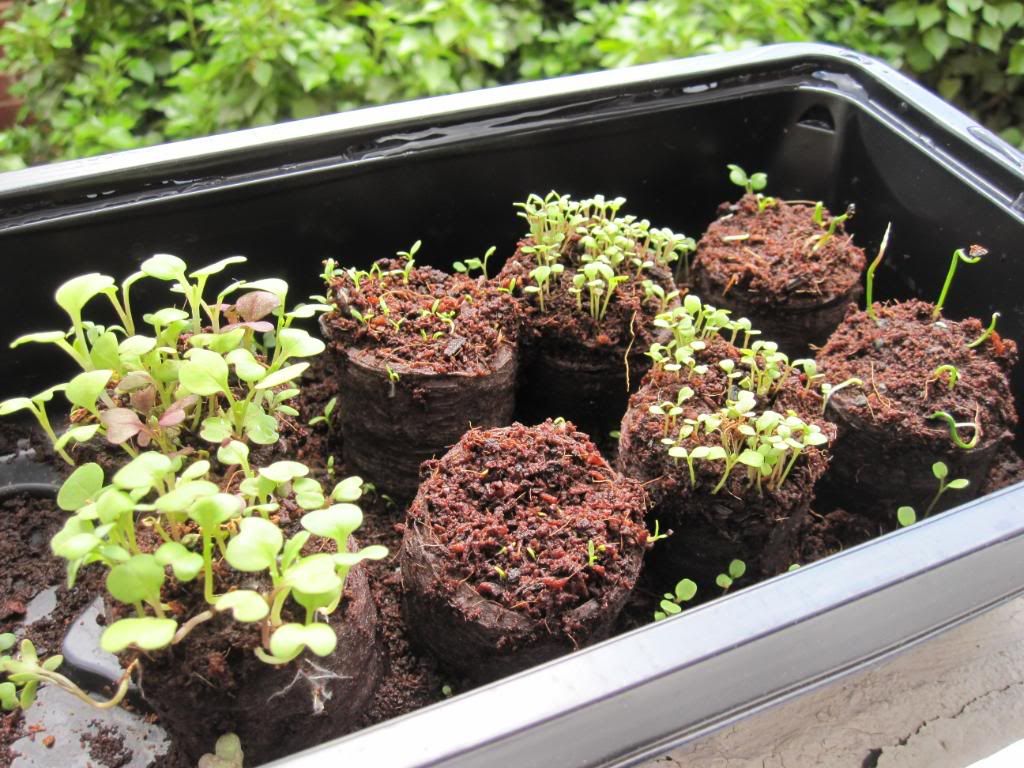 Columns from left to right: Speedy Salad Mix, Blood Veined Sorrel, Wild Rocket, Garlic Chives.
Speedy Salad Mix has consolidated its lead and started to pack on a few grams of weight in the Propagator Handicap Classic. Garlic Chives don't know whether they are coming or going with their sporadic and somewhat retarded growth pattern thus far. Wild Rocket are showing strength in numbers, but are probably to far behind Speedy Salad Mix to mount a challenge. Bringing up the rear but with Garlic Chives firmly in its sights is Blood Veined Sorel who looks to be laying a good base from which it can mount an attack on third place.
Bulls Blood (bottom left & middle), Lemon Basil (bottom right) Japanese Mizuna (top right), Swiss Chard Brightlights (top middle), Swiss Chard Yellow (top left).
Bulls Blood, Yellow Swiss Chard and Swiss Chard Bright-lights have all made great progress with Bulls Blood the more proliferate of the three with Swiss Chard Yellow very close behind. Way out in front though in the Egg Box Special are the Japanese Mizuna leaves who have made remarkable progress in the last few days. Lemon Basil has made a belated go of things, will it be able to catch Swiss Chard Brightlights is anyones guess.
The peas* are still stuck firmly in the starting pods with no sign as yet as to whether they will make a go of it at all.
Crazy scenes down here.... back to the studio.
Dylan
*not pictured.