My phone rang out at 5:15am and that was the signal, after just 4 hours sleep, to get up get showered, get some Coco Pops down my face and get in the car. My journey was to be 171 miles, and according to the good people over at Google Maps, would take 3hrs 25mins.... TomTom however informed me it would take 3hrs 11mins... who would be right??? I swear you could cut the tension with a knife at this point.
Highlights of this early morning journey were of course the beautiful country side on route to one of the countries top hotels winner of "Hotel Of The Year" in 2009, as well as the unexpected delight of passing Stonehenge at dawn, complete with a few hippies whom were probably wearing all manner of hemp based clothing whilst smoking copious amounts of its illegal cousin no doubt. There was however another reason to be visiting this hotel, and it was mainly due to the awards bestowed upon the restaurant that resides there by a certain tire company that had peaked my interest.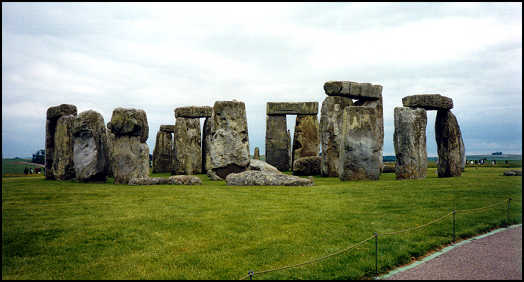 Stonehenge
I was on route for a day in the kitchen of Gidleigh Park, where Executive Chef Michael Caines MBE and Head Chef Ian Webber work to impress diners with their well renowned, modern and innovative cuisine. To say I was excited would be an understatement. Having spent a week in a Michelin 1 Star restaurant during the previous month and been blown away by what I saw, the sense of anticipation of stepping into the kitchen of a Michelin 2 Star kitchen accounted for my paltry amount of sleep the previous night.
Some rooms at Gidleigh Park
My excitement was peaked further as the location of the restaurant was slowly and beautifully revealed. I was already in the back of beyond, navigating single lane roads (the ones where you struggle to get your car down without taking your mirrors off) and trusting, nay, HOPING that Mr TomTom hadn't decided it would be funny to give me the run around the lovely Devonshire countryside. It was around this time, while trying to squeeze through some tight spots that I was unexpectedly greeted by the Gidleigh Park entrance sign which informed me that the hotel could be found a further 1.5miles up the winding lane which I dutifully navigated, pulling up grass verges and reversing to suitable passing points whenever any oncoming traffic was met, which fortunately only occurred on a couple of occasions.
Glorious Devonshire Countryside
Then there it was, Gidleigh Park, in the light of a glorious spring morning, framed by woodland and with long sweeping gardens interrupted by a lovely bubbling stream. Quite simply beautiful! I parked my car, checked I had my knives, whites, hat, and shoes and strolled, as one should do I imagine in such surroundings, to the reception where I was greeted by many members of smiling staff. Even the guests who passed through all smiled and wished me good morning, something I guess is unsurprising since they had just awoken from a night at this fabulous place.
Not a bad spot
I was gently ushered to the kitchen, with plenty of time to admire the crackling fire place and wood panelling along the way. I was met by Head Chef Ian Webber and the day began. I wont go into a detailed minute by minute of my day as it was generally precise kitchen prep such as slicing cucumber on a meat slicer at specific settings before either finely dicing or cutting it with a stencil to a exact size strips, mincing onions until they were mushy and almost melting, peeling snails and finely dicing, prepping vegetables and weighing them for sauce reductions, picking micro herbs and other such jobs... I'm sure to some of you this sounds dull, and in the case of the snails quite gross... I on the other hand loved every second of it!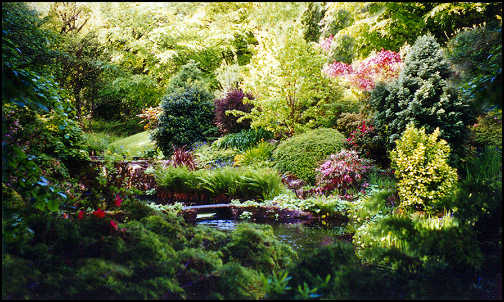 The bubbling stream running through Gidleigh Park and its gardens
Now everyone knows the way to a mans heart, and the chefs at Gidleigh Park certainly found there way to mine as I seemed to spend a large amount of time while doing my prep jobs nibbling on tasty morsels. As much as I tried to keep my head down and crack on with my jobs, it seemed every two minutes the chefs kept thrusting food in my direction to try... here's some of the foie gras terrine, here's some of the chicken terrine, here's some of the vegetable terrine, try this caramelised cauliflower purée, try these micro herbs, try this apple and ginger purée and on and on.
Heaven.
Executive Chef Michael Caines MBE
During lunch and dinner service I spent nearly all the time at the pass watching the food being expertly and intricately assembled. Now the food I experience a few weeks ago at The Latymer was was very good and looked amazing, however due to its complexity it was difficult for me to look at and understand even when I was told what the dish comprised of! However the dishes I saw on Saturday were unbelievable in appearance, but this time I could understand what I was seeing. As Chef explained to me though, the presentation is important, but first and foremost the priority with every plate of food that leaves the kitchen is that it tastes how its supposed to. (read that last part as AMAZING!)
During a quiet moment at dinner one of the chefs told me to grab a spoon and try all the different jus' that were assembled by the hot plate. There were quite a few and I cant recall them all but there were such delights as duck and orange, lamb, beef, thai fish, split chicken and about 5 others.... you cant believe how these things tasted... I was truly shocked and couldn't comprehend what I was tasting and was left shaking my head after each spoonful, not because anything was wrong, but because they tasted too good! I was also passed various other bits to try such as a truffled white haricot bean soup, snail risotto, thai purée, frogs legs, duck, venison, halibut, salmon etc etc etc.
So all in all you could say I was a little bit more than blown away by my day in this amazing kitchen what with such an splendid location, friendly and welcoming staff and above all the truly awesome food. It was an experience that will stay with me a long time, and I am hoping to be able to take up the Chefs offer to come back again when I have finished my course.
All that remained was for me to drive back home to Manchester... a journey according to TomTom that would span 254 miles and take me 4hrs 32mins.... which it didn't. It took 7hrs after a few sleeps at motorway service stations and the odd Cadburys Caramel Egg... something that wasn't on the menu at Gidleigh but is also amazing!
Dylan